Easing Dental Anxiety: Coping Methods that Can Help
Posted by iTooth Family Dentistry
Oral Health
on Feb 24 2023, 06:00 AM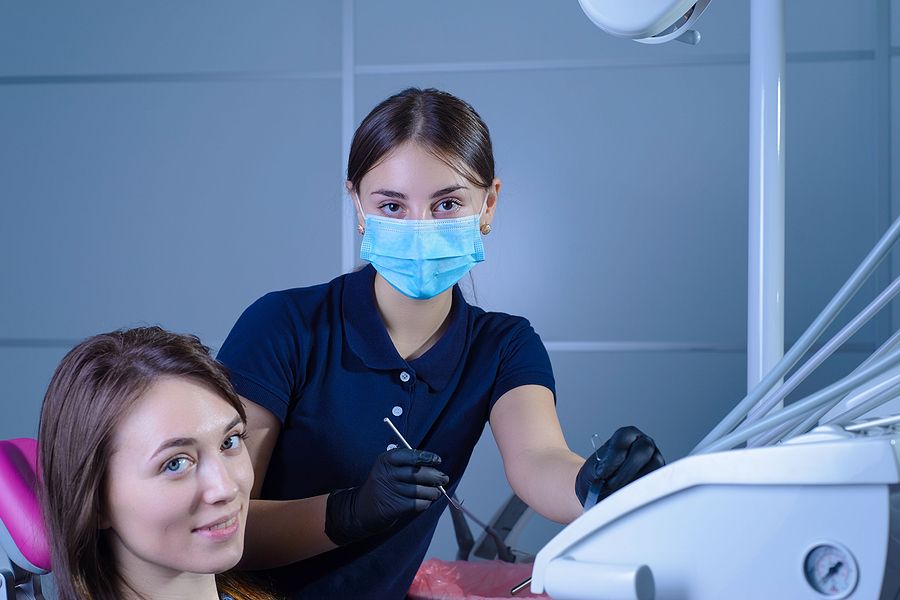 Dental phobia is one of the most common fears in America. There are many reasons why people have a fear of visiting the dentist. This fear causes many people to avoid routine dental care. This can lead to serious dental health issues.
Speak up about your fears
You can ease your anxiety by speaking up about your fear. A skilled dentist can offer options to help you feel more comfortable and relaxed. Your oral health is important, and your dentist won't judge you for being nervous.
Tell your dentist that you have a low pain tolerance or feel anxious at the dentist's office. They might be able to offer a special numbing gel to numb your gums before a procedure begins. Ask if the dentist offers sedation options like nitrous oxide gas or oral conscious sedation. The dentist can walk you through the process and help you feel more relaxed during your appointments.
If you have some extra time before your procedure begins, consider talking to your dental hygienist to ask any questions you may have about the procedure. They'll answer anything that you're wondering so that you can feel prepared and knowledgeable about what will happen during your treatment. If you're feeling anxious, they can discuss ways to make you feel comfortable and relaxed throughout your appointment. If your appointment is scheduled during a time of the day when you're feeling particularly nervous, consider asking your dentist if this time can be changed. Many dentists understand the importance of good oral health and offer flexible scheduling options for their patients.
Don't hesitate to discuss any fears you have related to your dental treatments. Your dentist wants you to be comfortable and will do their best to accommodate your needs.
Schedule routine exams every six months to keep your teeth and gums healthy and prevent problems from arising. In between appointments, practice good oral hygiene at home by brushing twice a day with fluoride toothpaste and flossing once a day. Also, limit how much sugary food and drinks you consume to prevent tooth decay.
Agree on a signal
It's common for people to fear the dentist because of past painful experiences or a general fear of discomfort. However, this apprehension doesn't have to get in the way of you getting the dental treatments you need to stay healthy.
One tool that can help you communicate your needs is your safe word. When you find a care provider that you are comfortable visiting with, let them know that you want them to stop immediately if you have any specific issues arise. You can then agree on a signal, such as raising your hand, that will alert the dentist to stop right away. Having this word in place can help avoid those situations when you might otherwise be afraid to speak up.
Bring distractions
Bringing a distraction to pass the time during your appointment can help you relax. Have a friend text you or bring headphones to help you pass the time. If your phone is muted and you have headphones in, you won't hear any notifications that might cause anxiety. If you are worried about missing an important call, ask your dentist if they can page you with updates throughout your procedure.
Consider sedation dentistry
Sedation dentistry can relieve your fear of the dentist by focusing on relaxation and comfort. Nitrous oxide and oral conscious sedation quell your anxiety and prevent you from feeling pain. Your doctor will prescribe the appropriate dosage depending on the procedure you're having performed and the severity of your anxiety.
Oral sedation relaxes your body for an extended period of time and makes your visit seem like only a few minutes. However, you will need to arrange for transportation to and from your appointment since you'll still be under the effects of the medication. Professional dental care requires your attention to be at your best, so it's important to allow yourself time to rest and recover after the procedure.
Nitrous oxide provides a quick-acting sedative that is completely reversible and doesn't last as long as oral conscious sedation. With nitrous oxide, you can drive yourself to and from the appointment and easily resume your normal activities. While it will not totally eliminate your pain and anxiety, it will reduce your discomfort and allow you to relax throughout your treatment.
Please reach out to iTooth Family Dentistry in Springfield, MO, to have a consultation with our dentists, Dr. Robbins or Dr. Fincel. Call Dentist in Springfield, MO, at (417) 883-8515 or schedule an online consultation, and we'll guide you further.